A-1 Ocean Breeze specializes in residential and commercial air conditioning, heating, and refrigeration. We are bonded and insured by the California State Board, and our technicians are HVAC/R NATE certified. They have been directly trained by the factories, and received additional training in our company.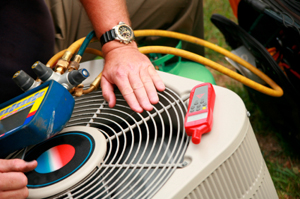 Our employees can service and repair all makes and models of heating and air conditioning equipment! Some of our most common repair work includes heaters, air conditioning, ice machines, commercial heating, air service, and refrigeration. We have multiple trucks on the road working weekdays, weekends, and even holidays to meet all of your needs, along with an emergency service when urgent repair is needed. The trucks are equipped with top of the line tools to diagnose your problem and get it fixed properly the first time, saving you money and prolonging the life of your products!
A-1 Ocean Breeze is the best choice when it comes to servicing your refrigerants and air conditioning systems while following environmental laws. We are up to date on all of the regulations for repair, reuse, and recycling any ozone-depleting CFC products, to make sure we are doing our part to protect the environment.
Customers will receive honest, quality work in a timely manner, at a fair price. We have been in business for over 20 years with an outstanding reputation serving Santa Clarita, the San Fernando Valley, Ventura County, and other surrounding areas. For more information call us at (661) 252-6800.
A-1 Ocean Breeze, Inc.
26845 Oak Avenue, Unit 16
Canyon Country, CA 91351
661-237-0589