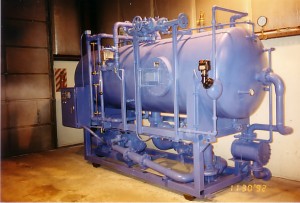 Boilers are used in a variety of commercial industries. If your boiler breaks down it can cost you in time and money. The best thing to do is to have routine maintenance performed so that any potential problems can be detected right away. This will allows minor repairs to be performed to fix potential issues before they turn into huge problems.
Keep an eye out for these signs that your boiler may need some repair work done:
Look for Leaks – A boiler should not leak. Water is vital to the boiler working properly. If you have a water leak, then the boiler has to work even harder to heat up to the right temperature. This also costs fuel because you are using more fuel to try and heat the boiler up. There is also a danger of carbon monoxide leaking through the boilers ventilation system. Any sign of a leak must be addressed right away. Not only to save you money but to keep you safe as well.
Smells Are a Sign of Trouble – A boiler should not have any unusual smell emitting from it. If there is an odor coming from the boiler; this can be a sign that there is a gas leak or an oil leak. This can be a very dangerous situation not only for yourself but for anyone in the building. In the beginning, the odor may not be so easily detected but as the potential leak or damage worsens, the odor will become stronger. By the time you smell the odor, it could mean serious damage to your boiler so be careful.
Listen for Noises – If you hear any sort of banging, clanging, hissing or rattling noise coming from the boiler this may be a sign that you need immediate service. Some causes of these noises could be sludge deposits in the boiler that cause the water to distribute unevenly.This can lead to the boiler overheating and in come cases it may shut itself down.
Look for Rust, Stains or Signs of Corrosion – If any rust or corrosion gets into the pipes of the boiler then you will need to have maintenance performed. This corrosive build-up can cause potential heat loss to the boiler. Having the boiler diagnosed immediately can save a lot of headache later on.
The smallest and simplest of things that are easy to overlook can be the things that can cause serious problems where your boiler is concerned. Periodic maintenance to the boiler can often find these potential problems before they turn into major problems.
A-1 Ocean Breeze, Inc. 26845 Oak Avenue, Unit 16 - Canyon Country, CA 91351
661-237-0589