It's a Felony for Unlicensed Contractors in California
It can be expensive to repair air conditioning units in a home or office, and, when asking for bids on the work, people may be tempted to take the lowest they can find in Santa Clarita. This strategy is not necessarily the best. The lowest bid may be given by an unlicensed contractor, which will most probably cost much more in the long run.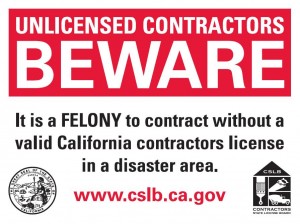 The reason unlicensed contractors can give the lowest bids is because they have lower overhead. They do not pay licensing fees, or pay to protect their work with a bond, and they usually don't pay for liability and worker's compensation insurance. These things cost money, which is added to the licensed contractor's fees. Unlicensed contractors can give lower prices because they skimp on safety, quality, licenses, insurance and permits.
Heating and air conditioning units need to be installed and repaired according to state regulations. Contractors need to get a permit from a city or county building department before they install, remove, remodel or replace an air conditioning unit. Insurance companies also require licensed, qualified contractors to do the work if a claim needs to be successfully made in the future.
The homeowner assumes all liability for any injury or damages if they use an unlicensed contractor. These damages may be to the homeowner, his family, the home or the contractor. Insurance companies will not usually pay if the contractor was not licensed.
Unlicensed contractors may also do unsatisfactory work or not complete the work, and the homeowner has no recourse. It is expensive and not easy to win this type of case if it is taken to court. If this happens, the homeowner will lose the money they have spent and still need to employ another contractor to get the work done.
Faulty air conditioning systems that are badly installed by unlicensed contractors can cause:
• The resale value of the home to drop
• Harm to the state's air quality
• Higher utility bills
• Sickness in people because of low quality air conditioning
• Harm to the ability of the state to reach energy and environmental goals
The best way to avoid unlicensed contractors is to avoid home improvement services being offered door-to-door, verify the contractor's license, never pay over $1,000 or 10 percent down, whichever is less and never pay for work in advance. Homeowners can protect themselves by checking references, contacting consumer agencies such as the Better Business Bureau and making sure the contractor has obtained the necessary building permits.
A-1 Ocean Breeze, Inc.
26845 Oak Avenue, Unit 16
Canyon Country, CA 91351
661-237-0589