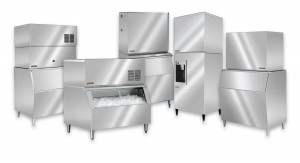 Ice is one of those items that everyone seems to need. So for commercial businesses like restaurants, service stations and more, ice can mean thousands of dollars in sales. Ice is used in many ways:
Used to make fountain drinks cold
Used to chill cold food items
Used to sale to the public to fill their coolers and more……
Ice is used in a variety of ways today. We've seen the days get hotter and hotter and there is nothing more refreshing then having an ice cold drink or a chilled dish. If your commercial ice system goes down, this could cost your business thousands of dollars and we're not talking about repairs. The ice business is a growing one. You generally can't go into a store, service station, cafe or restaurant and not see ice.
If your commercial ice system goes down for just one day it could be harmful to your businesses income and profit. Face it, no one wants to buy a warm soft drink on a hot day. No one wants to eat a lukewarm tuna salad as we all know it's not good for it to sit at room temperature for long periods of time. Ice can be refreshing or can be used to make foods safe for consumption.
When your commercial ice machine is broken you need it repaired right away. You need to know that it will be handled right the first time. At A1 Ocean Breeze we understand how important repairs are to your business. Contact us as soon as your system goes down so we can schedule you for a repair. Time is money. So call us when you need the job done right and quickly.