Burning Smell from Heater
So now that some colder nights are starting to hit us in Santa Clarita chances are you're using your heater for the first time for months. We get a lot of calls asking us about the strange smell that seems to happen just moments after you turn your heater on.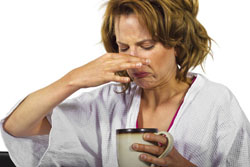 The short and simple answer is your heater hasn't been used in months and dust and other materials have settled on the heating coils within your system. Whether it's a gas furnace or an electric heating system your Santa Clarita home will experience an odd or sometimes described as burning smell for the first few hours you turn your system on for the first time this season. Once the dust and other particles burn off your heater will smell normal and should not have any particular odor other than warm air coming from.
If your Santa Clarita heater does experience an odd or strange smell after a few hours of turning it on for the first time this season you may be experiencing some other problem and should have a professional inspect your heating system. It's always a good idea to have your complete system inspected twice a year to make sure everything is working properly. You should have a professional company like A-1 Ocean Breeze do a regular maintenance and inspection on your heating and air-conditioning system in the fall and spring. This will ensure that your system is working properly and will reduce the risk of surprises during the year.
A-1 Ocean Breeze heating and air-conditioning service can keep your gas or electric furnace running properly and safely for your Santa Clarita home. We've been in business since 1989 and are fully licensed, bonded and insured. All of our service technicians are NATE certified insuring you that they are educated on the latest heating and air-conditioning equipment and technology.
A-1 Ocean Breeze, Inc.
26845 Oak Avenue, Unit 16
Canyon Country, CA 91351
661-237-0589