Thousands of people each year are taken to the emergency room because of exposure to carbon monoxide. The odorless gas also is responsible for hundreds of deaths annually. However, there are ways to keep your family safe from carbon monoxide poisoning.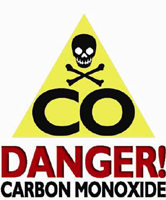 Before the winter season begins, it is important to have regular inspections of your heating system by a professional. Your heater and furnace should be checked, as poor ventilation could cause carbon monoxide poisoning. A-1 Ocean Breeze Heating and Air can test for possible carbon monoxide leaks in your home and repair them before they become a serious problem.
When A-1 Ocean Breeze Heating comes to your home, they will ensure that your heating equipment is operating properly. They can make sure that your carbon monoxide detector is installed and functioning correctly. A-1 Ocean Breeze Heating will check to make your home is safe from carbon monoxide.
To prevent carbon monoxide poisoning, you should get a good carbon monoxide detector. The best place to put a detector is close to the furnace or gas fixtures. If the alarm goes off, you will have plenty of time to evacuate the property.
You can also purchase new combo smoke detectors, which not only monitor for carbon monoxide, but they can also alert you if smoke is present in your home. After buying these devices, you can have peace of mind knowing that your family is protected from carbon monoxide poisoning and fire.
Keeping your family safe is your main priority; therefore, A-1 Ocean Breeze Heating in Santa Clarita, California can inspect your home to make sure the deadly gas is not getting through the cracks. You can visit our website at www.a1ocean.com for more information. Protect your family from carbon monoxide poisoning by letting us come inspect your home.