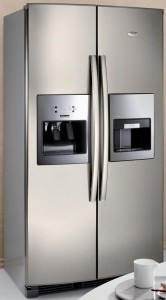 In Santa Clarita and around the world, a refrigerator is an essential in today's homes. We need a refrigerator to keep our food from spoiling so rapidly as well as keep the things we need frozen until we need them. So when your refrigerator isn't working it's a real problem. Below are some of the common signs that your refrigerator may be getting ready to go out:
If your refrigerator is constantly running then it may be a sign that your refrigerator motor is about to fail. While some refrigerators have motors that do run constantly, if you're is not one of them then this is something to make note of and look into.
Keep an eye on the temperature inside of your refrigerator. If your food is not remaining cold then you may need to have the internal thermostat, the compressor or the coolant checked.
A minute amount of condensation and moisture outside a refrigerator is natural. However if you begin to notice a large amount of condensation or moisture then you may have a leak somewhere that needs to be checked right away.
Keep an eye out for any damaged wiring as this can cause the refrigerator to short out or in come cases can cause an electrical fire to start.
Is your refrigerator emitting excess heat? If so then you may need to check the back coils.
There are so many aspects of a refrigerator that can go out at any moment. If you don't pay attention, it may be too late and you could lose a hundreds in groceries. Not to mention the cost to replace a refrigerator can be quite expensive. Detecting and fixing a small repair in the beginning can fix your refrigerator and keep it running at full capacity.
A repairman who specialized in refrigeration repairs can assist you and get you fully operational in no time. They know what to look for and how to fix it quickly when it comes to refrigerators. Most technicians have some sort of schooling behind them as well as years of experience. They know how to do the job right the first time. Don't hesitate to pick up the phone and call to have a repair technician sent to your home. One call could mean more money in your pocket if this issue is resolved quickly. It's better to be safe than sorry when it comes to you refrigerator.