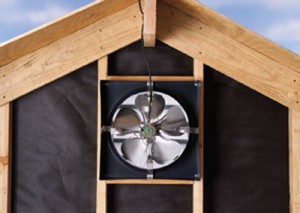 Saving money is important to everyone. In the last few years we have seen some of the toughest economic times. Every dollar counts. Everyone is looking for ways to cut costs and save money. This summer has been one of the hottest we've seen in a long time. This means that many homes have been running their air conditioners regularly. If your home is not well insulated and if it doesn't have an adequate attic fan, you could end up with an electric bill that will blow your mind.
If the temperature is around 85°F it can feel like well over 100+°F if you don't have a properly running attic fan. Attic fans help pull out hot air that is tapped within your home. This heat tends to collect in your attic which in turn causes your home to heat up. In an attic it can easily feel like 150°F without an attic fan working. Attic fans are generally set to come on and off when certain temperatures are reached.
There are several advantages to using an attic fan. These include:
Lowers the temperate of upstairs rooms
Helps shingles on the roof to last longer by keeping them cooler
Helps decrease air conditioning costs
Attic fans are an important part of any home. They can greatly help you with saving money all year around. Not having a properly working attic fan can end up costing you a lot of money. If you can save money then why not do all you can to save it? Contact us today if you have questions about installing an attic fan or if you need maintenance on yours.