Santa Clarita Heating
People depend a lot on the furnaces installed in their home to provide safe and comfortable indoor temperatures when the air outside is frigid. After sitting throughout the summer without being used, these sensitive HVAC systems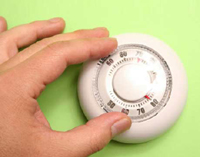 should be inspected for wear or damage before being utilized for the first time at the start of the cold weather season. This will help to prevent serious hazards from being encountered throughout your Santa Clarita home such as the furnace not working properly, structural fires and harmful gas exposure.
Things to Check on Your Santa Clarita Heater
If you do not have training or expertise to perform these inspections on your own furnace or heating system you may want to contact a professional furnace repair technician that can assist with these services. A reputable heater repair expert will provide services to ensure that your ventilation for the furnace is free of debris and build-up that commonly causes carbon monoxide poisoning in homes throughout Santa Clarita. Using diagnostic tests the technician can locate areas within the ventilation system that may not allow air to flow freely, causing blockages for the exhaust gases.
Next, you will want to have your heating unit inspect for wear or damage to the various internal components. Your heater repair technician has the tools and special training to locate any problems in a fast and efficient manner. For homeowners this can mean friendlier energy expenses when operating their unit during cold weather seasons.
Filters should always be changed before operating the furnace or heating system. This will prevent dirt, allergens and other microorganisms that are often found in HVAC filters from being spread throughout the home when the air is forced through ducts. Your heater repair professional can provide these important maintenance services at the beginning of cold weather months, as well as throughout the season to ensure that the air quality within your home is never jeopardized.
When you want to know that your HVAC systems are in proper condition and that all furnace repair needs are performed properly, you can trust the professionals at A-1 Ocean Breeze to deliver desired results. These professionals have built their business providing homeowners throughout Santa Clarita with some of the most honest, dependable and competitively priced services for their furnace and heating system needs.